Protein & Antibody Production
Identify and characterize top candidates with high-titer transient protein and antibody production. MaxCyte® electroporation technology offers production system flexibility, performance and scalability supporting R&D, toxicology studies and beyond. When the time is right to invest in stable cell line development, MaxCyte can get you there faster too.
Experience the advantage of working with the ExPERTs
Obtain milligram to grams of protein within days from a single transfection.
MaxCyte's unique combination of technology, scientific support and regulatory expertise will help you reach your goals faster.
Use your manufacturing cell line from the start, eliminating the cost and time associated with revalidation and the risk of product failure when switching.
Extend the utility of transient protein and antibody expression for R&D, toxicology studies and beyond with seamless scalability from 75,000 to 200 billion cells.
High cell viability enables condensed timelines for high titre transient production and stable cell line development.
Achieve more, faster, with the superior transfection efficiency and cell viability of the ExPERT™ platform.
Use the right cells, right from the start
The MaxCyte ExPERT platform gives you the freedom to use the cell type that makes the most sense for your project.
Whatever type of cell you use, MaxCyte electroporation technology delivers virtually any molecule with high efficiency and cell viability for high titer recombinant protein production.
MaxCyte's ExPERT platform enables reproducible transfection of many cell types commonly used for protein production including:
CHO and CHO-derivatives
HEK
Vero
NS0
Insect
High titer transient antibody expression in days, not months
Supporting high titer antibody expression at any scale, MaxCyte electroporation accelerates your antibody production process.
High-yield transiently transfected cells enable you to do more with transiently expressed material, saving the time and resources required for stable cell line development.
Flexibility to optimize culture conditions to maximize transient titres
Numerous variables can affect transgene expression in both stable and transient production, including cell type, culture density and media/feed strategy. Reproducible, efficient transfection with MaxCyte instruments and consumables enables you to rapidly identify the conditions for optimal transient yields in your system.
High cell viability after electroporation enables condensed timelines for stable cell line development
Stable cell line development can be costly and time-consuming. When you've identified top leads, you want to obtain high-yielding clones and establish a Master Cell Bank as quickly as possible. MaxCyte electroporation couples high-efficiency transfection with high cell viability, which means cells recover quicker and selection can start sooner, condensing timelines.
Supercharge your antibody production process with MaxCyte.
Whether expressing antibodies for use as diagnostics or biotherapeutics, speed is
critical. MaxCyte electroporation technology enables the transient production
of grams of antibodies, bispecifics or other antibody types in days to weeks, from
one electroporation step, in your chosen biomanufacturing cell line.
Used in the discovery, development and manufacture of recombinant proteins, MaxCyte® ExPERT™ scalable transfection is a rapid solution for antibody and protein production. The MaxCyte STx® and VLx™ Large Scale Transfection Systems are the next generation of the industry's leading scalable electroporation technology for seamless transition to GMP manufacturing at clinical scale.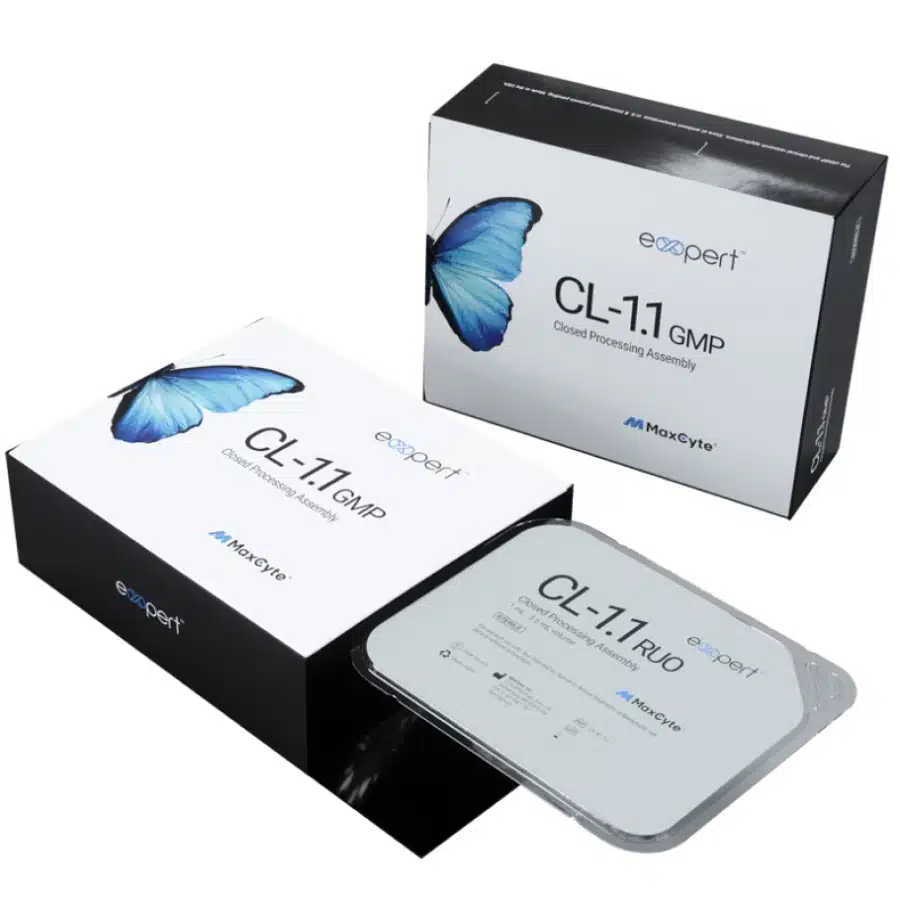 Reagents and Processing Assemblies
MaxCyte consumable products provide users with a variety of options for project scale and throughput from discovery through manufacturing using a single platform. Our range of Processing Assemblies allows users to transfect a variety of sample volumes to meet specific application needs. MaxCyte's universal electroporation buffer is animal-derived component free and safe for all cell types ensuring consistent, high-performance transfection.
Ready to learn how the ExPERT platform enables protein and antibody production?
Our experienced team is just a click away!