From product development to translation into clinical trials, GTx's clinically validated scalable electroporation technology is equipped to handle your most complex cellular engineering demands.
Rapidly transfect from 75 thousand to 20 billion cells
Move forward with 21 CFR Part 11 enabled software
Develop quickly with an established regulatory path supported by a FDA Master File
Manufacture confidently with closed, cGMP-compliant, ISO-certified and CE-marked products
Enjoy MaxCyte's proprietary Flow ElectroporationⓇ technology
Integrated Touch-Screen - Easily operate with just the touch of a finger.
Enhanced Software User Interface - Save time with regulatory compliant functionality and intuitive ease of use software.
Barcode Reader - Capture important sample processing details and minimize manual information entry.
Network Capable - Generate and save run reports automatically onto a shared local drive.
LED Status Indicators - Quickly visualize instrument and run status with 6 colorful and clearly defined status modes.
Retractable Bag Hooks - Utilize convenient hooks for large volume processing and then fold them away when you don't need them.
Reduced Footprint - Bench-scale, modular equipment.
Elegant Design - Enjoy a modern, sleek appearance that fits seamlessly into any high-tech lab space.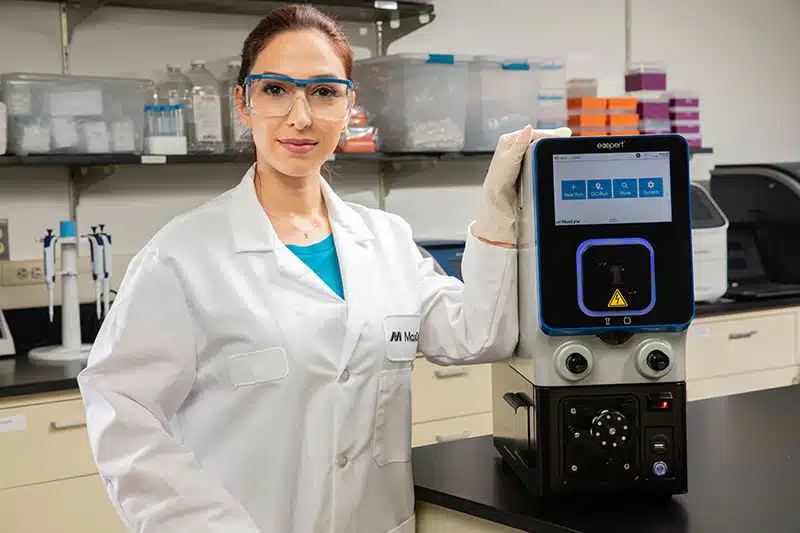 Choosing MaxCyte® gives you more than just an instrument — partner with an expert in cell engineering with the knowledge to support you during every stage of your journey of discovery.
Compatible Consumables & Accessories
Learn how scientists are using GTx™
An Alternative Vector Platform for the Manufacture of Recombinant T cells for Autologous T Cell Immunotherapy
Dr. Harbottle discusses how nS/MARt DNA vectors can provide robust transgene expression in every cell and model system available.
The GTx is supported by an FDA Master File and has 21 CFR Part 11-enabled software. The GTx enables a closed cGMP-compliant process and is ISO-certified and CE-marked.
The GTx can rapidly transfect from 75 thousand to 20 billion cells.
The GTx has been used for advanced genome editing and clinical-scale engineering of adoptive cell therapies.