Streamline Your Discoveries with One Line of Consumables
Whether you're in early-stage discovery or ready to accelerate development, ExPERT processing assemblies, reagents, and accessories help you scale consistently without compromising efficiency. Reach your destination with ease with MaxCyte consumables.
Propel Your Research to the Clinic with Simple and Adaptable Products
Processing Assemblies Scales & Available Formats
Sample Volumes*

Cell Numbers*

Formats Available

15 µL - 25 µL

75,000 to 5 million cells

3 well PA

45 µL - 55 µL

225,000 to 10 million cells

3 well and 8 well PAs

50 µL - 100 µL

250,000 to 20 million cells

1 well and 2 well PAs

200 µL - 400 µL

1 million to 80 million cells

1 well PA

400 µL - 1 mL

2 million to 200 million cells

1 well PA

1 mL - 3.5 mL

5 million to 700 million cells

1 well, closed PA

5 mL - 20 mL

200 million to 4 billion cells

Flow EP closed bag system

10 mL - 100 mL

50 million to 20 billion cells

Flow EP closed bag system

100 mL - 1000 mL

10 billion to 200 billion cells

Flow EP VLx PA system

Calculations for lower limits based on a cell concentration of 1x107/mL and for the upper limit 2x108/mL
*Cell numbers and volumes are for a single well
Choosing MaxCyte gives you more than just an instrument — you get cell engineering and regulatory expertise that moves you from concept to clinic faster.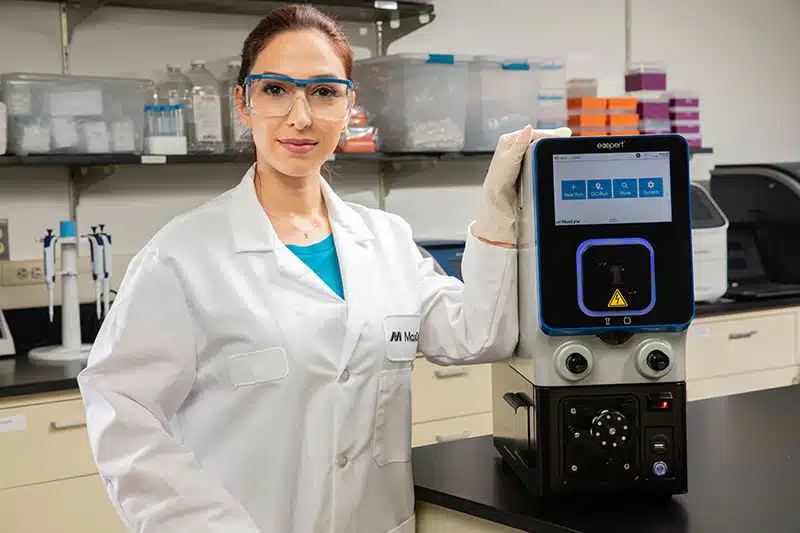 Despite advances in human genetics, patients with rare diseases such as Duchenne muscular dystrophy (DMD) still have limited therapeutic options and a short life expectancy.
Chronic hepatitis B virus (HBV) infection can result in hepatocellular carcinoma (HCC), which is the third leading cause of cancer-related deaths worldwide.
Wiskott-Aldrich Syndrome (WAS) is an X-linked recessive primary immunodeficiency affecting between 1 in 50,000 to 1 in 250,000 live births worldwide. Mutations in the WAS gene cause abnormal immune system function, thrombocytopenia, and an increased incidence of autoimmune malignancies.
Transfect any cell or any molecule at any scale with MaxCyte's platform technology
With electroporation devices to meet every need and technical support for every stage, you can transfect any cell or molecule with high efficiency, potency, and reproducibility.
Experience Best-In-Class Cell Engineering Platforms
Accelerate your therapy by combining comprehensive and personalized scientific and regulatory support with industry leading electroporation systems.