The industry's leading scalable electroporation technology for high-yield, transient expression of complex proteins, vaccines and biologics
Rapidly transfect from 75 thousand to 20 billion cells
High efficiency enables flexible media strategies that can deliver significant cost savings
Improved yields for decreased development timelines
Proprietary Flow Electroporation™ Technology
Faster production of stable clones
ISO-certified and CE-marked
Integrated Touch-Screen - Easily operate with just the touch of a finger.
Enhanced Software User Interface - Save time with updated software providing additional functionality and intuitive use.
Reduced Footprint - Bench-scale, modular equipment.
Network Capable - Generate and save run reports automatically onto a shared local drive.
LED Status Indicators - Quickly visualize instrument and run status with 6 colorful and clearly defined status modes.
Retractable Bag Hooks - Utilize convenient hooks for large volume processing and then fold them away when you don't need them.
Elegant Design - Enjoy a modern, sleek appearance that fits seamlessly into any high-tech lab space.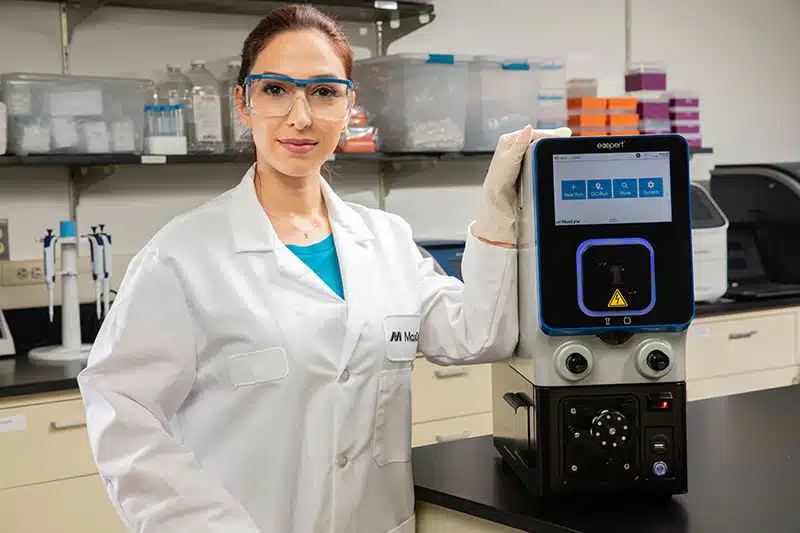 Choosing MaxCyte® gives you more than just an instrument — you get the best cell engineering platform and a partner with the knowledge to support you to reach your research and manufacturing goals.
Compatible Consumables & Accessories
Learn how scientists are using the STx™
CRISPR/Cas9 gene editing for the creation of an MGAT1-deficient CHO cell line to control HIV-1 vaccine glycosylation
Gene editing of a suspension-adapted CHO cell line to enable production of suitably glycosylated HIV-1 proteins for vaccine development.
The STx enables efficient static and flow electroporation of virtually any cell. For small-scale applications, choose the ATx. When you need the benefit of an FDA Master File, choose the GTx.
The STx is the industry's leading scalable electroporation technology for high-yield transient expression of proteins, vaccines and other complex biologics.
The STx can rapidly transfect 75 thousand to 20 billion cells.