Hold your research and proof of concept studies to the highest standards with reliable and efficient electroporation technology
Achieve high efficiency and cell viability
Rapidly transfect from 75 thousand to 700 million cells
Seamlessly transition to clinical GMP platform
Enjoy compatibility with all MaxCyte static electroporation Processing Assemblies
Accelerate the development of your research with reliable, scalable and efficient performance
Integrated Touch-Screen - Easily operate with just the touch of a finger.
Enhanced Software User Interface - Save time with updated software providing additional functionality and intuitive use.
Reduced Footprint - Bench-scale, modular equipment.
LED Status Indicators - Quickly visualize instrument and run status with 6 colorful and clearly defined status modes.
Elegant Design - Enjoy a modern, sleek appearance that fits seamlessly into any high-tech lab space.
Network Capable - Generate and save run reports automatically onto a shared local drive.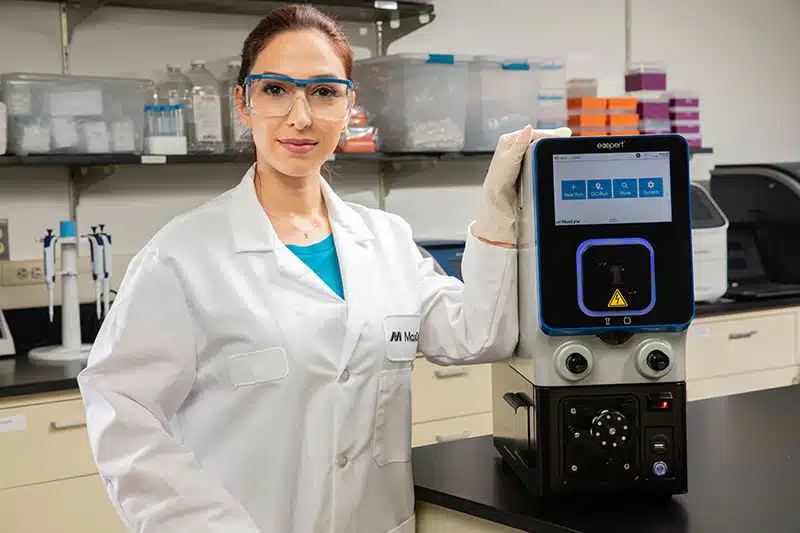 Choosing MaxCyte® gives you more than just an instrument — partner with our cell engineering experts to support you during every stage of your journey to discovery
Compatible Consumables & Accessories
Learn how scientists are using the ATx™
High-affinity CD16 integration into a CRISPR/Cas9-edited CD38 locus augments CD38-directed antitumor activity of primary human natural killer cells
This exciting study from the Childs lab used complementary genetic engineering strategies to generate NK cells with enhanced potency and resistance to fratricide in the presence of DARA.
The ATx is a research-scale electroporation instrument ideal for cell engineering to produce proteins, develop cell-based assays and vaccines or to design the next generation of cell and gene therapies.
The ATx can rapidly transfect from 75 thousand to 700 million cells per run.
The ATx is our introductory instrument and is optimized for static electroporation. Comparatively, the STx and GTx are more advanced instruments equipped with a peristaltic pump to enable flow electroporation.