Genetic engineering has revolutionized our ability to understand, prevent and treat disease. New techniques are being developed to meet the demand for safer, more efficient gene editing. To enable you to use these new tools effectively, MaxCyteⓇ electroporation delivers virtually any combination of molecules, efficiently and reproducibly, without sacrificing cell viability.
Perform gene insertion, deletion or correction with a non-viral gene transfer platform that satisfies the stringent demands of clinical use, but has the flexibility to meet all your research needs.
Healthier cells for efficient editing
Whether editing cells as a therapeutics or to create better disease models, you need healthy, functional cells. It's crucial to choose a transfection method designed to ensure cell survival and efficacy.
We developed our non-viral gene transfer platform with cell viability in mind, with a non-toxic buffer and optimized protocols for your cells and cargo. MaxCyte electroporation enables efficient loading of diverse payloads while maintaining healthy cells.
Discover high-efficiency gene editing
When using primary cells, factors such as editing efficiency, cell toxicity and scalability are crucial for developing a viable workflow. With MaxCyte you can rely on our engineering excellence to ensure large-scale high-efficiency editing with the maximum cell viability in sensitive cell populations.
Scalable, cGMP compliant electroporation technology from concept to clinic
Progressing a discovery from concept to clinic is complex and challenging, we have faced many of these obstacles and supported our collaborators to overcome them. Avoid experimental re-optimization by using the right technology from day one. MaxCyte provides the only clinically validated electroporation technology that scales seamlessly from bench to bedside. Partner with MaxCyte and let us help you to navigate the most efficient path to success.
High cell viability enables multiplex gene editing
When cutting edge cell and gene therapies require modification of multiple genes you need a transfection technology that is highly efficient and gentle on patient cells. MaxCyte electroporation was used to edit three different genes in T cells to help engineer an autologous cell therapy.
Simplify your genome engineering workflow
MaxCyte's electroporation platform is a non-viral gene transfer system for the transfection of RNAs, RNPs and very large plasmids. We enable highly efficient gene editing with CRISPR, transposons and more. With unsurpassed levels of cell viability post electroporation, MaxCyte can support you with increasingly complex genome engineering strategies including multiplexed or sequential editing. Whatever your gene editing approach, MaxCyte delivers.
Supported by numerous publications and clinical trials, our ExPERT GTx® instrument is the next generation of the industry's leading, scalable electroporation technology for complex cell engineering.
The GTx™ is capable of high-performance delivery of virtually any molecule, into any cell, at any scale with the unique ability to transfect primary cells, stem cells and cell lines with high cell viability and transfection efficiencies routinely over 90%.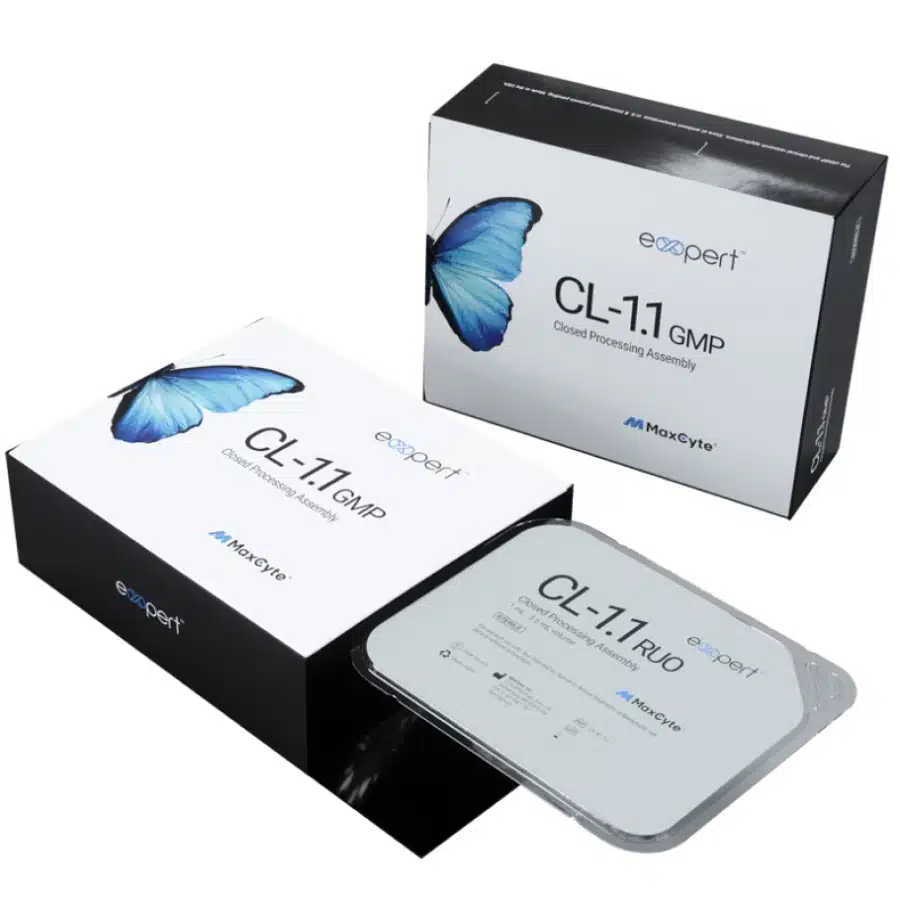 Processing Assemblies and Reagents
MaxCyte's consumable products provide users with a variety of options for project scale and throughput from discovery through cGMP manufacturing using a single platform. Our range of Processing Assemblies allows users to transfect a variety of cell sample volumes to meet specific application needs. MaxCyte's Electroporation Buffer is animal-derived component free and safe for all cell types ensuring consistent, high-performance transfection.
Want to learn more about our Technology?
Learn how MaxCyte enables efficient CRISPR electroporation.