CAR NK Cell Manufacturing
Unlock the promise of NK cell therapy with highly efficient delivery of CAR constructs to NK cells using MaxCyte® ExPERT™ instruments.
Our gentle electroporation ensures high yields of viable, precisely engineered NK cells, for rapid, efficient and clinically scalable CAR NK cell manufacturing.
Enable efficient, stable CAR expression
As with many primary cells, NK cells have proven challenging to engineer. Our electroporation technology enables highly efficient delivery of mRNA and is gentle on cells, resulting in increased high-affinity CD16 receptor expression. Partner with us to make your engineering easier.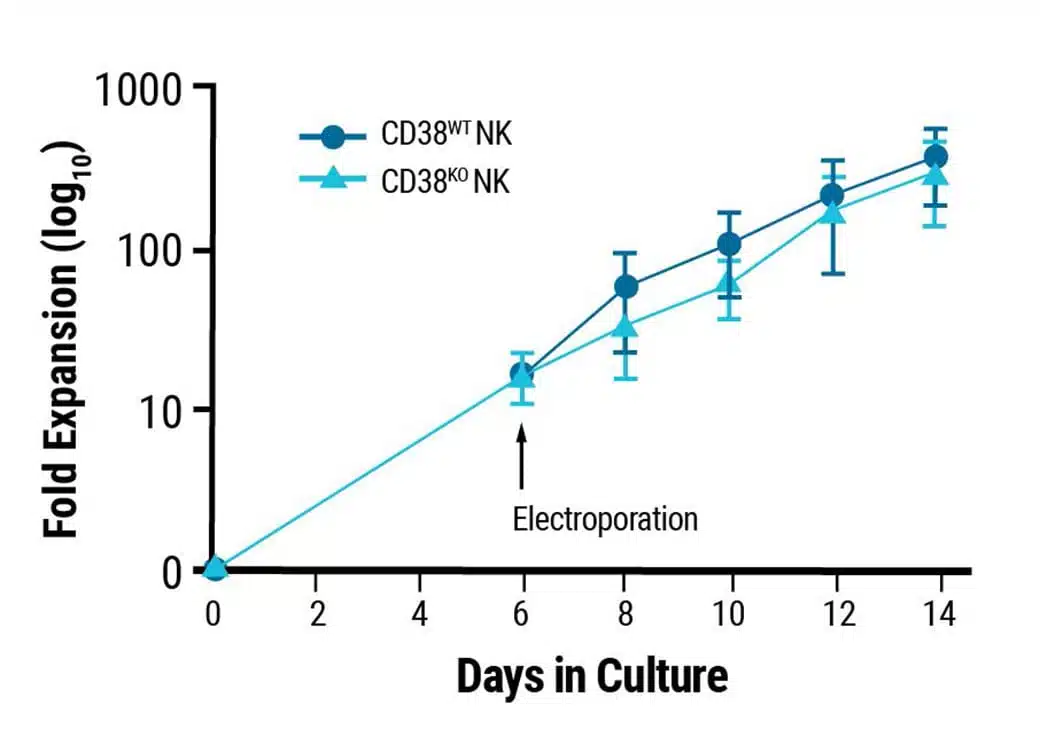 Ensure functional and proliferative edited cells
Disruption of healthy function is always a concern when engineering cells. At MaxCyte, we have spent 20 years optimizing electroporation. As a result, we have a wide range of cell-type specific protocols designed to protect the functional and proliferative capacity of your cells. Collaborate with us for electroporation that is simple, gentle and efficient.
Perform sophisticated multiplexed engineering
Intricate engineering strategies are being developed to boost CAR NK cell therapy efficiency and potency. MaxCyte empowers researchers with a highly efficient, easily adaptable, scalable solution for multiplexed genetic engineering. We're excited to collaborate to create a streamlined workflow for developing and manufacturing your immunotherapies.
Accelerate CAR NK cell manufacturing
Navigate through the complexities of CAR NK cell development and manufacturing with MaxCyte. Our refined approach to electroporation provides significant benefits to your engineering strategies. From high efficiency to low toxicity and clinical scalability, we empower the rapid development of potent CAR NK cell therapies.
Supported by numerous publications and clinical trials, our ExPERT GTx® instrument is the next generation of the industry's leading, scalable electroporation technology for complex cellular engineering.
The GTxTM is capable of high-performance delivery of virtually any molecule, into any cell, at any scale with the unique ability to transfect primary cells, stem cells and cell lines with high cell viability and transfection efficiencies routinely over 90%.
Reagents and Processing Assemblies
MaxCyte's consumable products provide users with a variety of options for project scale and throughput from discovery through cGMP manufacturing using a single platform. Our range of Processing Assemblies allows users to transfect a variety of cell sample volumes to meet specific application needs. MaxCyte's Electroporation Buffer is animal-derived component free and safe for all cell types ensuring consistent, high-performance transfection.
Ready to learn more about our technology?
Find out how we can help you reach your CAR NK cell manufacturing and research goals.